The IDX App allows you to control settings related to MLS and IDX implemented on your site.
It's important to note that there are different options available that are dependent on whether your IDX is through iHomefinder or Easy Agent Pro. This article covers the IDX App when Easy Agent Pro is your IDX provider. If iHomefinder is your IDX vendor, please refer to the iHomefinder version.
If you're unsure which IDX your LeadSite uses, there are a couple of ways to tell.
Your IDX is iHomefinder if:
Your Search pages have the text "Real Estate IDX Powered by iHomefinder" in the lower-right corner of the search form

Your Headshot menu in your dashboard has the "IDX Login" option (for logging into your IDX Control Panel)

If these are not present, your IDX vendor is EAP, and you should stay on this guide.
To access your IDX App, click Apps in the top menu of your Dashboard, navigate to the Lead Capture Apps section, and click the IDX App icon. Click Settings to access IDX Settings.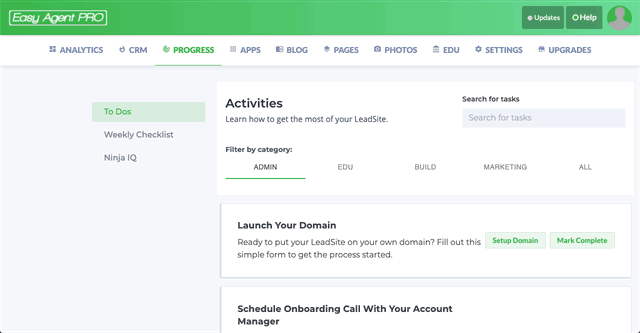 Once inside the IDX App, you'll see a menu of options available on the left. Within each of those options, are relevant settings that you're able to change and update.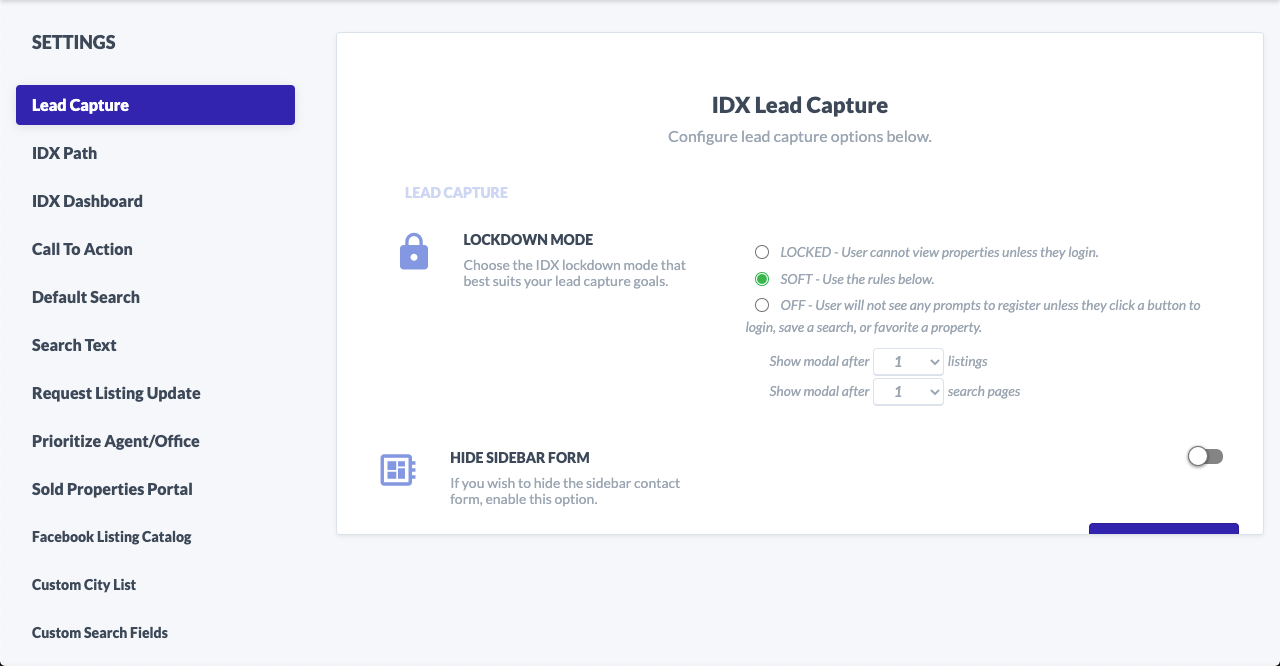 Lead Capture
The Lead Capture settings allow you to determine if and when a site visitor will be prompted to enter their contact information prior to being able to access listings and search results.

Lockdown Mode Options
This feature allows you to set how many properties and/or search results pages your visitors can view before the IDX registration popup appears.

"LOCKED" requires the user to register or log in to continue.

"SOFT" allows the user to close the popup without filling it out.

"OFF" turns the popup off entirely.

IDX Path
The IDX Path section allows you to connect a Path (created by you in the Paths App

) to your listings.

IDX Dashboard
Control the text settings of the IDX Dashboard. This is the headline your clients will see when they log into their

IDX Dashboard.

Call to action
Set up a call to action on all of your listings, and control the text and link of the CTA button.
Default Search
The Default Search settings allow you to adjust how your search, results, and listing pages will look and work to your visitors.

Search Area:

The Search Area section allows you to create a specific market (or group of listings) that will always appear by default on your LeadSite's Basic Search Page.

Disable IDX Lightbox: When a listing is selected from search results, it opens in a "lightbox" popup. Toggle this option

on

if you want listings to open as a full page.
Open Listings in New Window: If you would prefer the expanded listing pages to open in a new window or tab instead of the same window as the results, toggle this option

on

.

Search Text
The Search Text section allows you to control the text settings for the search form and the text on the Advanced Filters form button.
Request Listing Update
If you've had to make a change to one of your listings with your Board, you'll find there is sometimes a delay in that update reflecting on your LeadSite. While we update listings in a timely manner, there may be times that you need your site updated immediately. In such a case, you can enter the MLS Listing ID here to update the listing and have the change reflected immediately.
Prioritize Agent/Office
If you would like to have your own listings prioritized in the search results, you can do so from this section. Add in your Agent ID and/or Office ID to have your own personal/office listings appear first in clients' search results!
Sold Properties Portal
Import your sold listings from the IDX, which will show up in relevant search results.
(Note: Your MLS Board may disallow or limit the display of sold listings. If this is the case, you can manually add your sold listings to your My Sold Homes page.)
Facebook Listing Catalog
Log into your Facebook profile to

connect your catalog of listings to your Facebook Business Page for running ads and Facebook Shopping promotions.

Custom City List
Exclude cities from autocomplete suggestions by clicking the right caret

ᐳ next to the city you want removed. This will help you eliminate duplicate and misspelled areas that other agents have added to the MLS cities list, and prevent your clients from performing a search for an empty or nonexistent area. Click the left caret

ᐸ to restore a city to the list.

Custom Search Fields
Exclude various search filters from the Advanced Search form. Use this to remove extraneous or confusing search parameters from the list of options.

Click the right caret ᐳ next to the filter to remove it or

the left caret ᐸ to restore it.

Custom Search Statuses
Exclude Pending or Sold listings from IDX searches site-wide.

Click the right caret ᐳ next to the status to remove it or

the left caret ᐸ to restore it.

Custom Listings
Add manually or import in bulk your custom listings into your IDX search. This can be used for off market listings and including your historical sold listing data. The spreadsheet below can be used as a template for bulk import.

Bulk Listings Template