The IDX App allows you to control settings related to MLS and IDX implemented on your site.
It's important to note that there are different options available that are dependent on whether your IDX is through iHomeFinder or Easy Agent Pro. This article covers the IDX App when Easy Agent Pro is your IDX provider. If iHomeFinder is your IDX vendor, please refer to the iHomeFinder version.
To access your IDX App, you'll click Apps in the top menu of your Dashboard and navigate click the IDX App icon in the 'Lead Capture Apps' section.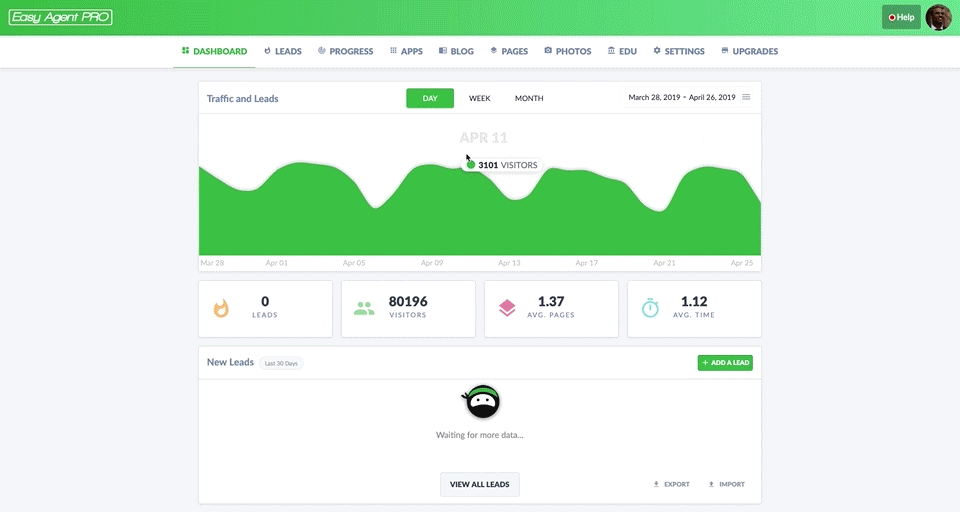 Once inside the IDX App, you'll see a menu of options available on the left. Within each of those options, are relevant settings that you're able to change and update.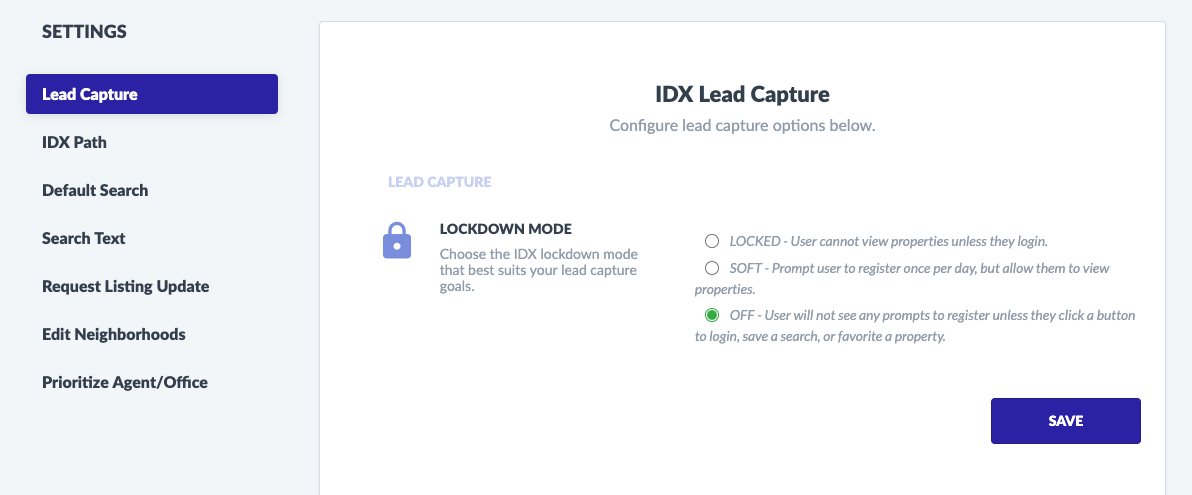 Create markets that can be used in IDX shortcodes.
Lead Capture
The Lead Capture settings allow you to determine if a site visitor will be prompted to enter their contact information prior to being able to access listings and Instafarm pages.

Lockdown Mode Options
This feature allows customers to set how many properties and properties searches website visitors can view for the IDX force registration appears. It can be used in the "soft" mode and "locked" mode.


IDX Path
The IDX Path section allows you to connect a Path (created by you in the Paths App) to your listings. (For more information about setting up a Path and using the Paths App, click here)
Default Search
The Default Search section allows you to create a specific market (or group of listings) that will always appear by default on your LeadSite's MLS Search Page.
Search Text
The Search Text section allows you to control the text settings for the search form and the text on the Advanced Filters form button.
Request Listing Update
If you've had to make a change to one of your listings with your Board, you'll find there is sometimes a delay in that update reflecting on your LeadSite. While we update listings in a timely manner, there may be times that you need your site updated immediately. In such a case, you can enter the MLS Listing ID here to update the listing and have the change reflected immediately.
Prioritize Agent/Office
If you would like to have your own listings prioritized in the search results, you can do so from this section. Add in your Agent ID and/or Office ID to have your own personal/office listings appear first in clients' search results!