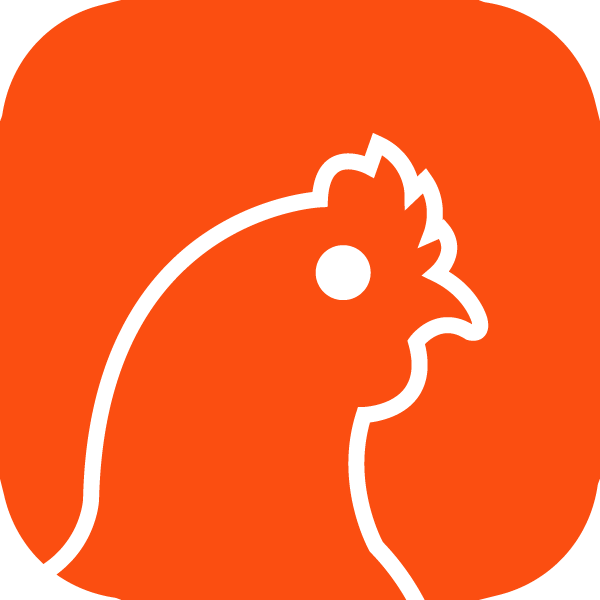 Instafarm is our instant SEO farming community builder. You can use our fill-in-the-blank tool to help you easily create a page that passively gathers leads for geographic areas of your choice!
Navigate to your Instafarm App by pressing the "Apps" tab toward the top of the page and finding the Instafarm App.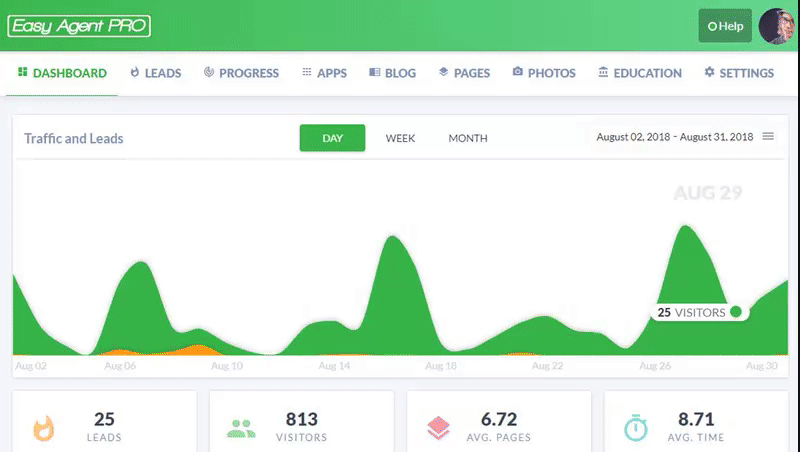 To create a new Instafarm page, click the "ADD NEW" button, or select an Instafarm page from the list to edit an existing page.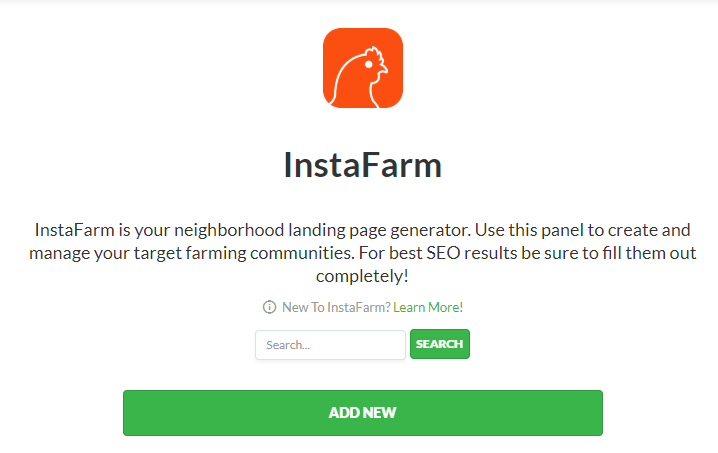 Title
Under the "Edit Post" Header, you can add a title for your new Instafarm Page.

Sidenote

After saving your title, you will notice green text underneath the title box. This is your permalink, which just means this is where your page lives on your site. If people navigate to your permalink using their web browser, they will be visiting your Instafarm page.
City and State
Fill out the City and State box next. This box will determine the map location at the bottom of your Instafarm page.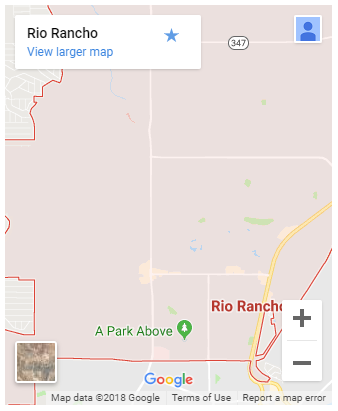 Youtube Video
You have the option of adding a youtube video at the top of your Instafarm page. The video will display just below the page title at the top of the Instafarm page.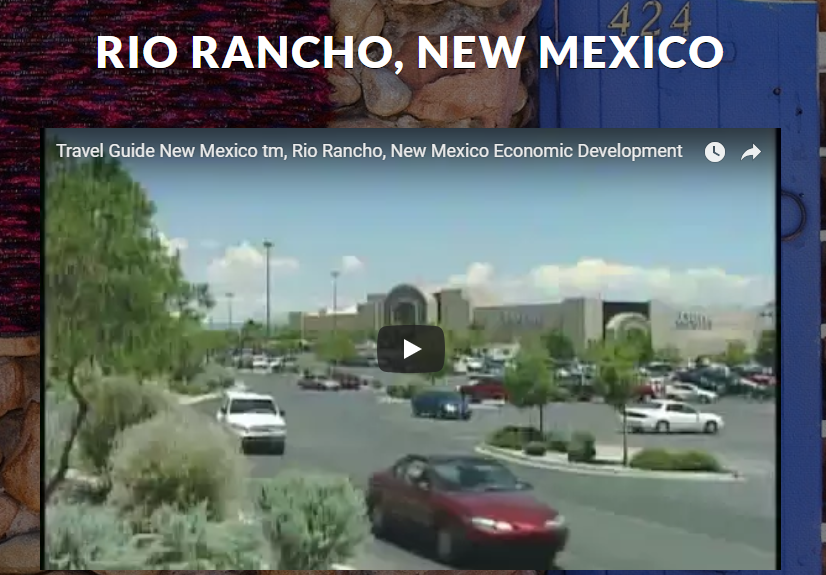 Header Menu/Our Areas
Menu name and the Add to menu checkbox will add this Instafarm to your header menu and footer "our areas" section once the settings are saved in the Instafarm editor. Note: only 10 Instafarm areas will show in either your header menu or footer at one time.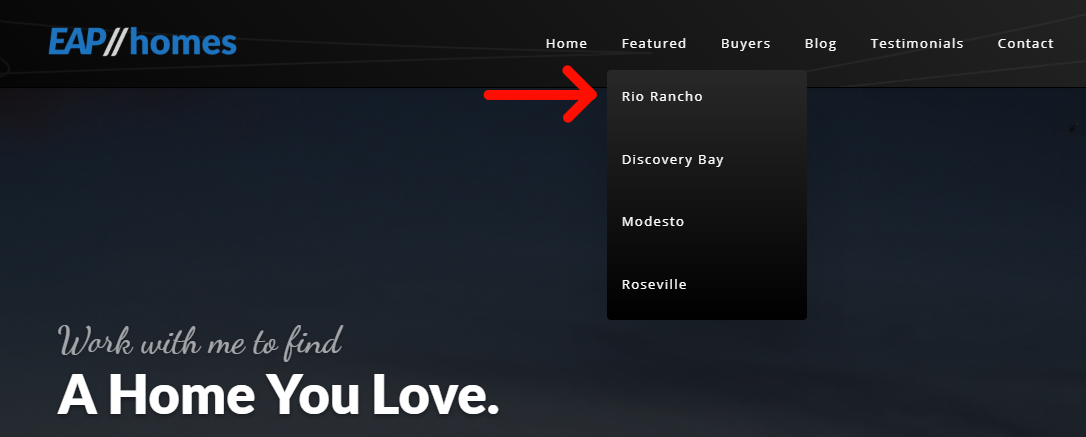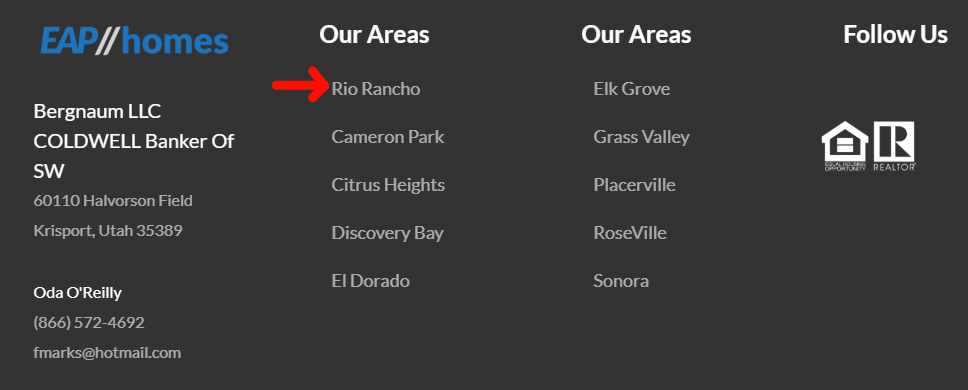 IDX Listings
Now, some people from here will just add an IDX market onto their Instafarm page and call it a day. We recommend trying to fill out the entire Instafarm form, and optimize your content to get the highest SEO score possible, so you will be more likely to generate leads from your page, but if you just don't have the time, or are planning on filling out the content later, here is how you can add an IDX market to your page.
First you will need to create a new IDX market if you have not already done so.
Then, you will want to navigate to the bottom of the Instafarm editor and find the "Extra information + IDX shortcode" section. Click on the black house icon labeled, "Optima Express Shortcode," that is outlined below in red.

A new form will pop up and you will want to select Listings > Listing Gallery > Listing Report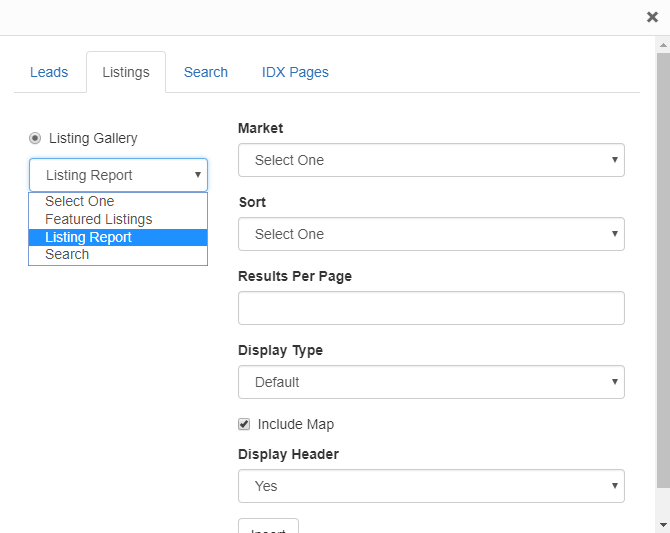 Select your IDX market on the right and choose a sorting option from the drop-down box. Click the "Insert" button when you are done to have the code generate into your Instafarm editor.
The shortcode should be between square brackets and start with "optima_express_toppicks"
Don't forget to save your page!