Showing off your successful sales can be beneficial to building your leads list. Unfortunately, your MLS may not allow sold listings to be displayed on your LeadSite's IDX, or they may be removed after only a few weeks, or you may need to purchase an upgrade to even have the option.
That's why we have provided the My Sold Homes app! With My Sold Homes, you can create a page with a list of all of your sold listings in one place that you can share anywhere on your site or social media. To start using My Sold Homes, first, log into your LeadSite's dashboard, then navigate to the My Sold Homes app in the SEO and Content section of your Apps tab: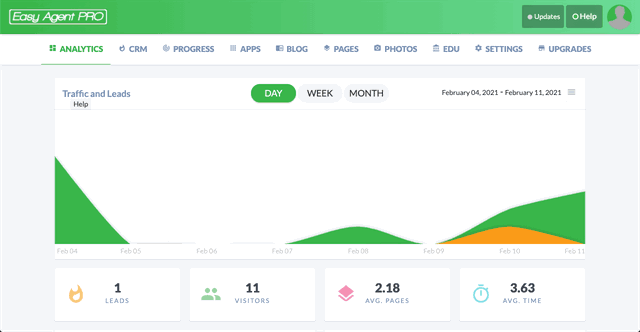 From the My Sold Homes main menu, you will have the following options:
Search properties: lets you search through properties you've added to the list

Create New: opens a new property editor

See Page: lets you view your My Sold Homes page as it appears live on your LeadSite

View Trash: allows you to view and either Permanently Delete or Restore a deleted property

Page Settings: update your page's verbiage, images, links, and SEO settings
---
Create New
Creating a new property for your My Sold Homes page is as simple as filling out a form!
Start by clicking the Create New button in the menu

Fill out the form on the editor page with as much of the property's information as possible.

You can include:

List price

Sale price

How did you represent deal (as buyer or seller)?

Full Address

Quantity of Bedrooms and Bathrooms

House Size and/or Lot Size

A short and/or detailed description of the property

Days on market

Sale date

Pictures

…and more!

When you're done filling out the form, click the "Publish" button in the Publish section of the sidebar on the right.

Once your page has been saved or published, click "Back To My Sold Home" at the top of the editor to return to your list of sold homes

You will be able to see any drafts or published properties on this screen.

---
Import
If you have a list of your sold properties in a CSV file, you can import them quickly and simply!
Click the Import button in the lower-right corner of the main app page. If you already have properties listed on this page, it'll be at the bottom of the list.

Click the "Select a file" button, and choose the CSV file you want to upload.

Match up each column from your list to its respective category. The "Unique ID" Category is required as well as "Full Address". Please Note If importing photos, be sure photo URL is available for the public to be imported properly.


(NOTE: Any column left as "Not imported" will be blank).
When importing the Deal Representation, (Buyer or Seller representation), the syntax for importing is as follows: "buyer, seller, or buyerAndSeller".



Preview the data you are about to import. If any corrections need to be made, click "Cancel" to return to step 3. Otherwise, click "Finalize import".

Stay on this screen while the file imports. Once it is complete, you should see all of your properties in your list on the main app page.

Click here for an example CSV file to help you properly format your own!
---
See Page
Click this button to see what your My Sold Homes page will look like to visitors on your LeadSite.

Visitors can click on any property in the list to view more information, including description and photos.

---
Delete, Clone, and Edit
From the main My Sold Homes app page, you can hover over any property in the list to bring up the Delete, Clone, and Edit options.

Delete: moves the property to the Trash, and removes that property from the page
Clone: creates a duplicate of the property that can be edited without affecting the original
Edit: opens the property editor, where you can update data, descriptions, and/or images
(NOTE: when you're done editing the property, click the "Update" button in the Publish section of the sidebar on the right)
---
With the My Sold Homes app, you can share your successful sales with anyone who visits your site, and you have full control over what you show and how!