This support document covers the basic set-up process for all Easy Agent Pro Leadsites.
After Purchase
Once billing information is provided and payment is confirmed, a link will be sent to the email address you used to sign up:
(e.g.: https://agent-real-estate-23.eapsites0X.com/login/?email=IieoMDAO2Y0UVXNtoh5HchmF8NK3WfxRpmOCkYtixqZ=&expires=4136469267&signature=jFcOK7iYHR2wxDP6zhhtJQwrCFumytWu)
Click this link to log into your dashboard and follow the steps below to begin the basic setup
NOTE: Only your initial Email/Username are permanent. Any data you enter or options you choose in the following steps can be updated later in your LeadSite Settings. You will also be able to invite additional Users for yourself or others.)
Username and Password:
Your Username will be autogenerated from the email associated with your account. You will set a password for your account on the first screen.

You will log into your LeadSite with this Username and Password. We recommend saving your Username and Password in your browser's password manager or your device's notepad.


Enter your password into both text boxes, then check the checkbox to agree to the

Terms of Service

. When you're finished, click the Save My Password button to continue to the next step.
Personal Information:


This is the official Contact Info you want to feature on your site, including your:

Name
Email Address
Phone Number


Be sure the info you provide here is what you want your clients to use to contact you.

Professional Info

:


This is the official company information to be displayed throughout your site, such as your:

Company Name
Street Address
City, State, Zip

(These can pertain to your business or your broker office)

Best email for notifications




Upload Branding Images

:

These are the logo and profile headshot that will be shown to visitors on your site. Please Note: If you do not have the exact specifications recommended, upload the highest resolution and/or best quality images you have, and our support team can optimize them for your LeadSite as part of your Week 1 Onboarding:

Logo: Your logo should be a PNG with a transparent background at least 1000px wide, and between 3:2 and 2:1 aspect ratio (roughly 1½-2× wider than tall). You can upload a White Logo and site Favicon in your LeadSite Settings.

Headshot: Your headshot should be at least 500px wide/tall and square (1:1 aspect ratio) with your face near the center, to avoid any awkward cropping or framing when it is displayed in the circular spaces throughout your site.

Brand Color: This will be the main color used on your site, usually applied to your Header, buttons, badges, and key text. If you have a hexidecimal code required by your broker or office, or a specific color based on your logo, you can enter that in the text box, or select one of the auto-generated colors.

Upload a Location Image:
Your Location Image will be used as the default/placeholder featured/background image for your LeadSite's pages. It should be a local image of a landmark, skyline, or stand-out location. You can also choose something plain, personal, or abstract.

You will want to choose an image that is at least 2000px wide and between 3:2 and 2:1 aspect ratio (roughly 1½-2× wider than tall). You will want the primary subject near the middle, and you'll want to avoid any image with prominent text.




Read EAP's

Terms of Use

and click the I'm Finished, Build My Site! button to finish the onboarding process and access your LeadSite dashboard.

After completing all onboarding steps, you will be directed to the

Progress tab of your dashboard, where you can start your Week 1 Onboarding Tasks.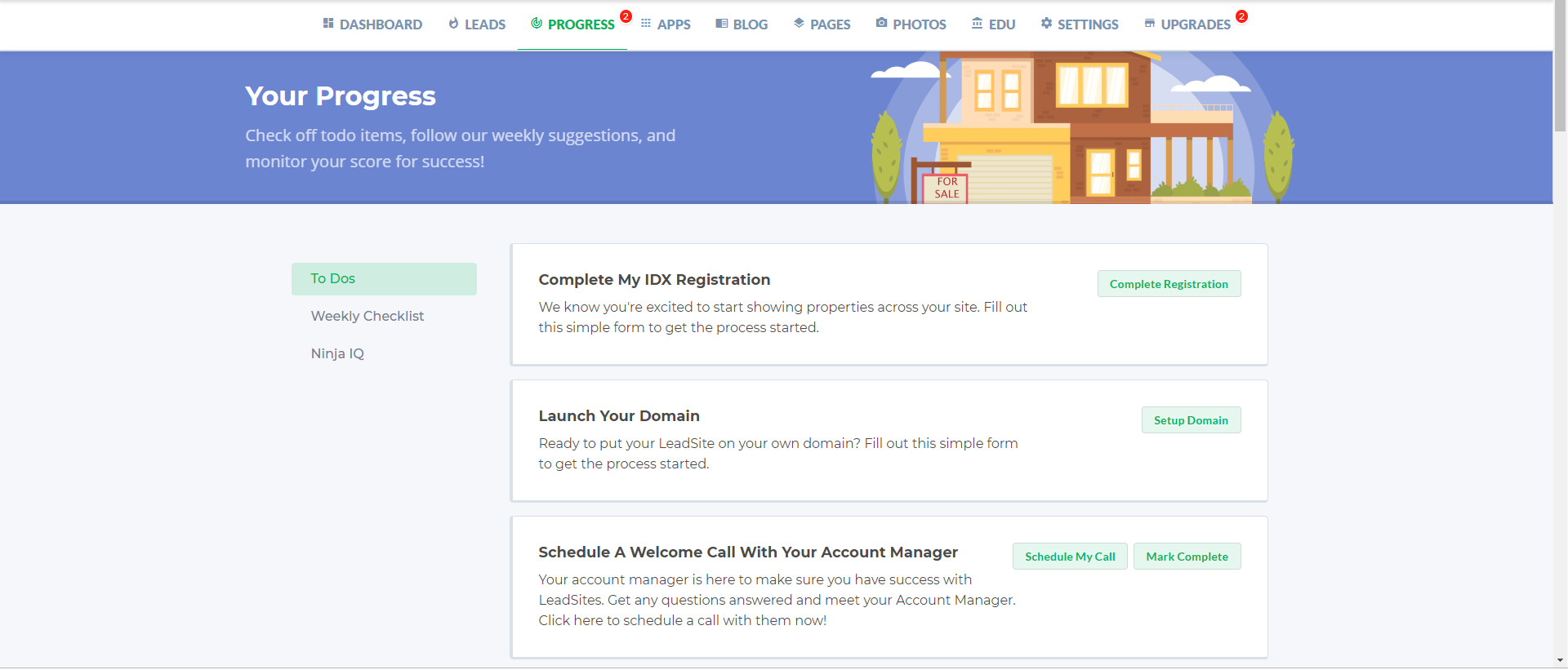 Please contact Easy Agent Pro Support via phone (1-800-327-6623) or via email (support@easyagentpro.com) for any issues during the initial LeadSite building process.