The Settings section of your LeadSite allows you to add your demographic information, as well as allow you to add/change your logo, and set other settings for your LeadSite.
You can access your LeadSite settings one of two ways:
The first way to access your LeadSite settings is by clicking the Settings menu item from your LeadSite dashboard menu.

You can also access the same Settings by using the Settings Apps from your App page.

Once inside the Settings app, or section, of your Dashboard, you'll see a sub-menu at the left-hand side of your app that allows you to navigate to various grouped options.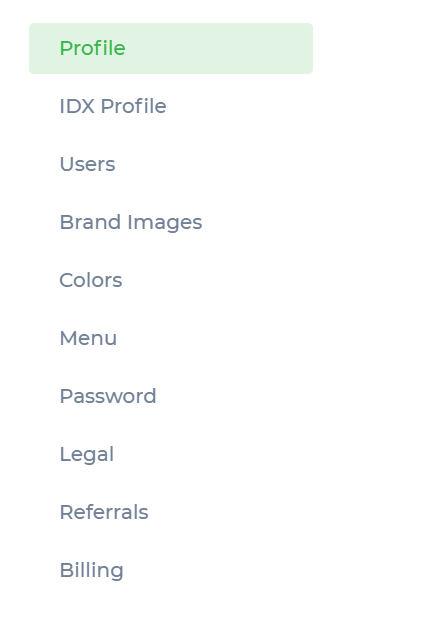 Let's take a look at each section:
My Profile
This section allows you to update your demographic information including name, job title, contact/business information, company name, timezone, and also gives you the option to prioritize your broker's name.
IDX Profile
The IDX section allows you to customize the IDX profile used to display your listings. To do so, enter your MLS Name, Agent ID, Broker Name, Broker Email, and Office ID.
Users
This sections displays the current users that are able to access your LeadSite. From here you are able to invite members of your team by selecting the "Invite New User" button on the top right-hand side. Also, you can edit user names and assign roles using the 'Edit User' button.
Brand Images
The Brand Images section allows you to customize the images and logos used throughout your LeadSite. From here you can upload a headshot, favicon, brand logo, white logo, and location image. Make sure to pay attention to the image specifications listed in small print underneath each image section.
Colors
In this section, you'll set the color-theming of your LeadSite. You'll want to make sure that your brand color is added as your Main Color.
Menu
The menu section is where you'll control all the items and links that will be displayed on your menu through your LeadSite. If you'd like to learn more about setting up your menu, please visit this HelpDoc.
Password
This is where you can update the password that you use to log into your LeadSite.
Legal
It's become more common, and in some countries required, to display a cookie disclaimer on sites that utilizing cookie tracking. By default, your LeadSite has a privacy policy available for your site users to read about the cookies that are utilized, along with how or why. You can edit your privacy policy at any time, if needed, by editing the Privacy Policy page which is accessible to you by going to Pages from your Dashboard and clicking on the Privacy Policy page.
Visitors can find your Privacy Policy by accessing it from your LeadSite footer. It's also linked to from your cookie disclaimer if you have it enabled.
To learn more about what cookies are and why/how they're used, read more here: https://us.norton.com/internetsecurity-privacy-what-are-cookies.html
Referrals: Earn Monthly Credit
Easy Agent Pro offers a referral program that allows you to receive a $100 credit for each new Easy Agent Pro client you refer!
You can sign up for the referral program by clicking the Earn Monthly Credit menu item within the Settings section of your site. To learn more about the sign in process, please make sure to watch the Settings section video at the top of this article!
Billing
This section allows you to manage your payment method and view invoices. Simply click the button on the bottom to sign in to the Billing Center