This support document covers the new features of the Easy Agent Pro CRM. Now leads can be managed without third-party programs.


By default, your LeadSite will send from noreply@easyagentpro.com, and limit to 200/emails/month. Click here to setup your Mailgun account for unlimited sending.
CRM Tabs Overview


Dashboard - Upcoming follow-ups, pipeline deals, and tasks for leads.
Leads Table - leads management.
Tasks - assign specific tasks for a lead or group of leads.
Add contact - created a contact manually.
Reports - statistics on lead activity.
Campaigns - create drip campaigns. Click the link for more information.
Saved Texts - create and save text messages.
Saved emails - create and save email messages.
Pipelines - create pipelines for campaigns and leads. Click the link for more information.
CRM Settings
Lead Management:
All leads will appear in the Leads Table under the Leads table Tab:

Lead Filters and Searching
All leads that are captured or manually added can be searched and filtered. Open the search menu by clicking the filter button in the top left corner (next to the "full name" column).

Management Actions
All actions regarding leads are located in the top right corner.

Note: at least one lead must be selected for any options to appear as a drop-down menu for the Actions button.
Each item of the Actions buttons will open a specific menu:


Are leads missing? Press the refresh button on the right of the Actions button!
Email


Tag



Text

Deal - add a "deal" for a lead. It will appear in the Pipelines portions of the CRM.



Score - Qualify your leads on a scale of 1 to 5.

Assign Owner - used for customers with a team of agents or CRM specific users.

Follow Up Schedule - choose when to follow up with leads. Follow up notification will appear in the CRM Dashboard tab.

Campaign - add the selected leads to an existing campaign. Click the link to learn more about CRM Campaigns.



Blog Drips - select leads to receive email notifications whenever a new blog post is published on your LeadSite.



Edit Lead Status - updated the status of a lead.



Edit Lead Source - edit what lead capture source a lead came from.



Delete



Importing Leads

Any leads can be imported using a CSV file. There is a downloadable example template in the import window. To access this menu, click the "import" button in the bottom right-hand corner.


Creating Leads
Lead data can be manually added by clicking the "create contact" button. Scroll down the page to see all the information boxes.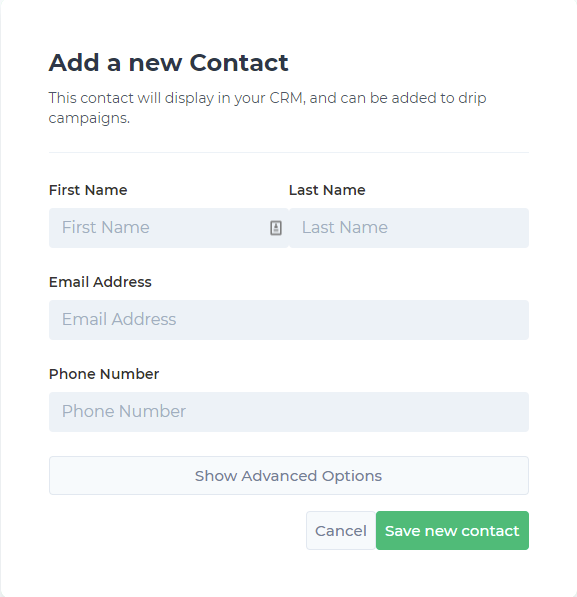 CRM Settings
Clicking the icon with the cog (top right-hand side, furthest to the right) will open the settings menu.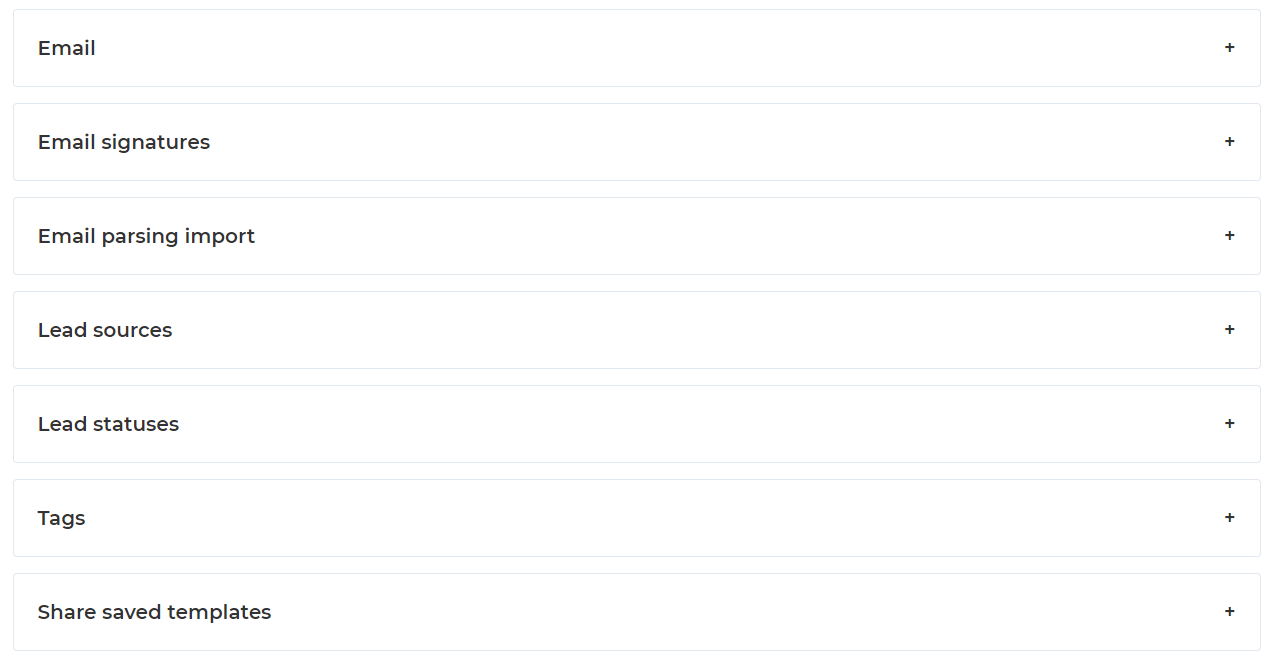 Email - add a default email and additional email addresses to the CRM.



Email Signatures - add multiple email signatures to the CRM. They are used in email templates.

Email Parsing Import

Lead Sources - manage lead sources for captured leads.

Lead Statuses - manage existing lead status or create new ones.



Tags - manage existing tags for leads or create new tags.

Share Saved Templates - share templates with other users on a leadsite.



Custom Fields - add custom fields to leads for data tracking.

Texting Number - the display phone number when text messages are sent from the CRM. A custom Texty number required for this feature. For more information: Texty App.



Lead Table Columns - manage and create custom columns that appear in the Lead Table.



Advanced Custom Domains - adding a custom domain to your EAP website that will display as your default email address. I.e: name@yourcustomdomain.com. Please refer to the Mailgun
support document for more information.