AUTOMATED TEXTS: Instantly send a message to all your new leads even when you're not in the office. Start a conversation or schedule an appointment.
START MORE CONVERSATIONS FASTER: The chances of converting a lead to actual revenue drop every minute you wait to contact them. Texty helps make this easy for you. Now every time you get a new lead, Texty will automatically send them a quick message to get the ball rolling.
NEVER MISS AN OPPORTUNITY: Whether you're with a client, or your family, now you don't have to worry about missing the chance to start talking with a lead. Texty will instantly start a conversation with every lead for you, so you can stay focused during your day.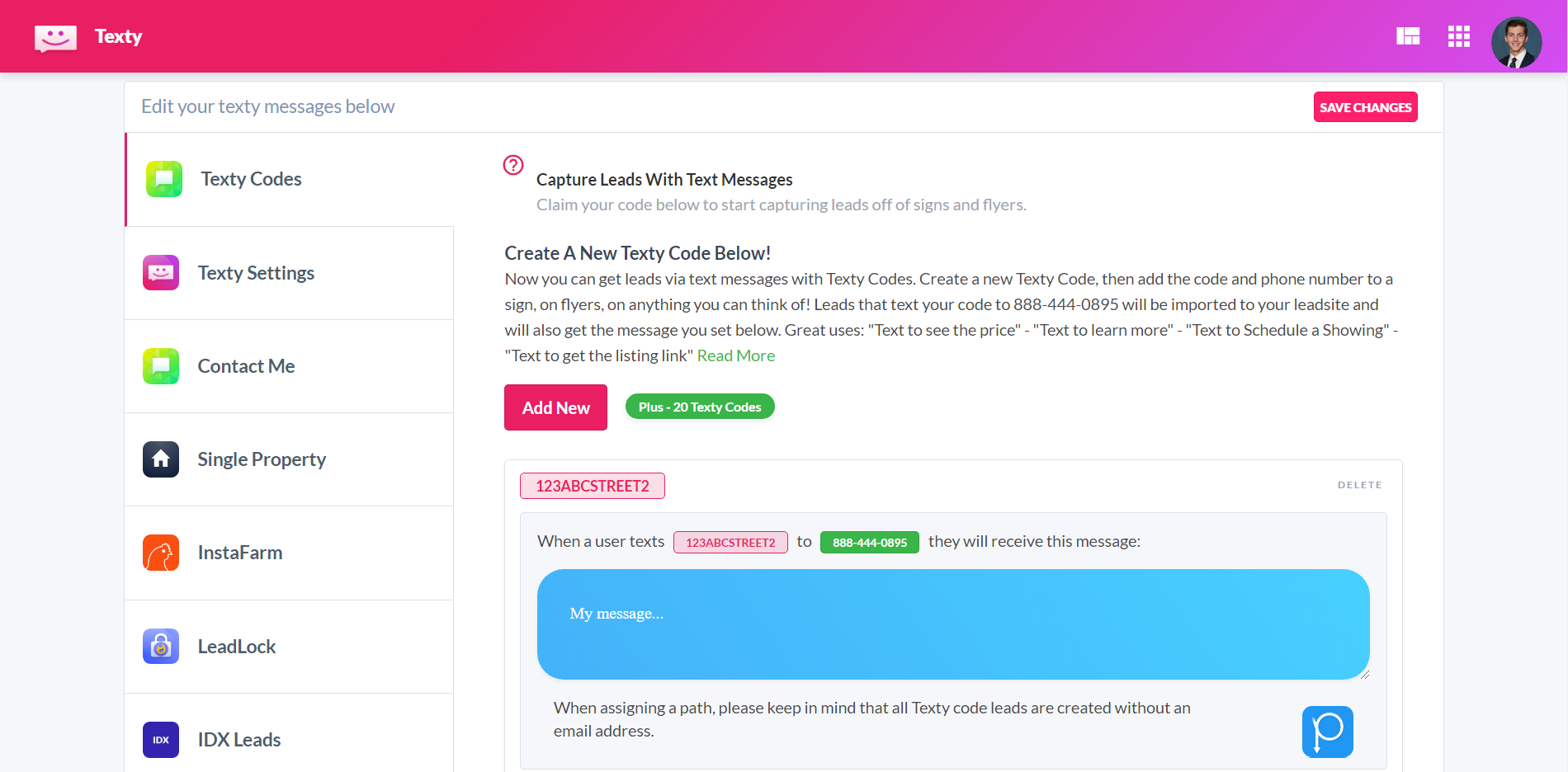 CREATING A NEW TEXTY CODE
Under the Texty Codes tab on the left-hand side, select the Add New button to search and claim the code you want. Then create an response that will be automatically sent to any user who uses your code.
In the Texty Settings tab, type in the number that you want to notifications to be sent to. Its important to note that clients will not see this number. Instead, they will receive responses from the number on the right-hand side of the screen
BE A BETTER AGENT: With Texty, you are at your best 24/7. Instead of worrying about how you're going to respond each time - let Texty send messages that you pre-set for sellers, buyers, and general inquiries. Quick response builds instant trust with new leads, making you look and feel like a pro.
Texty is FREE for US and Canadian LeadSites clients. Clients in other countries may have to cover the costs associated to sending SMS messages in their country.
A custom Texty number with your area code can be purchased via a monthly subscription.