It's important to connect with your leads in a timely manner, which is why Easy Agent PRO provides a fully featured CRM you can use to keep in touch; but what happens if you can't get to your LeadSite soon enough to contact your new leads?
Using your CRM's Campaigns, the Paths app, and your lead-generating page builders, you can automate your initial and several follow-up messages to your leads starting as soon as they are captured. In this guide, we'll show you how.
First, you'll want to create a campaign in your CRM by going to:
• CRM > Content > Campaigns

Follow our Drip Campaigns guide to create your campaign by setting up the email(s), text message(s), and delay(s) you want, or you can import a pre-made campaign from our Campaign Library:
Once your campaign is complete, give it a name, then go to the Paths app and either create a new path or edit an existing path. In the Paths editor, under "When I use this Path in any App, send Leads to:" (or "We're also sending leads to:" if you're adding to an existing campaign), select EAP CRM Campaign from the dropdown menu, then select the campaign you want to use from the second dropdown menu.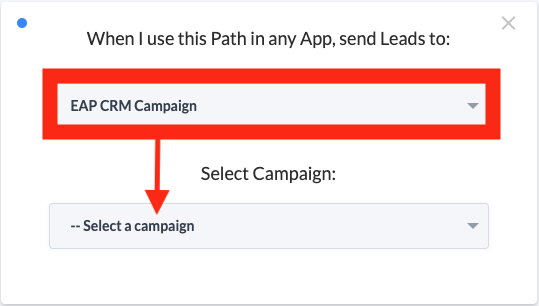 Finally, you can set this path to any of your Global Paths in the Paths app, or create a new page/form or edit an existing page/form in your preferred lead capture app. Every page or form builder app has a section where you can choose a path indicated by the Paths icon:

. Look for this button and click on it to choose the path you created for your automated campaign:
NOTE: Be sure to save/update your page or form after you've selected your path.
Now, any leads you capture from that page or form will automatically be assigned to your selected drip campaign to receive the designated emails and/or text messages! Campaigns and Paths can be used for any number of pages, so you'll only need to repeat the CRM and Paths steps if you want to automate a new campaign.