How to make and use a real estate ebook to generate leads
Ebooks have a lot of advantages:
• They make you look more trustworthy and authoritative
• They move your prospect toward doing business with you through education instead of pushy sales tactics
• They are a tried-and-true way to get people to raise their hand and say "YES, I'm interested in buying (or selling) real estate."
1. Pick a Topic
Your ebook has to be about something. Here are some ideas to get you started:
• Complete Home Buyer's Guide
• Complete Seller's Guide
• The Ultimate Guide To Buying a Home In __________ (insert your market)
• Guide To Downsizing After The Kids Move Out
• How To Get The Best Possible Price When Selling Your Home
2. Write an Outline
Organize information about your topic into chapters.
Example: The chapters of a home buying guide might be:
What to expect from the pre-approval process
Different kinds of loans
How to start your home search
The top 5 neighborhoods in ________ (insert your market)
etc.
3. Create a PDF
At Easy Agent Pro, we create most of our ebooks using presentation software like Microsoft Power Point, Apple Keynote, or Google Slides.
Presentation software makes it easy to add text and images, without it feeling overwhelming (like you're "writing a book").
If you need free, high-quality stock photos to use in your ebook, check out this article.
For an example of how easy this can be, check out Easy Agent Pro's guide:
How To Get Your House Ready For Sale
(By the way: If you're looking for an ebook to use, but don't want to actually write one yourself, the ebook above is yours to customize and use however you like.)
When you're done adding content to the presentation, simply export the presentation as a PDF, like this:
With Google Slides

With PowerPoint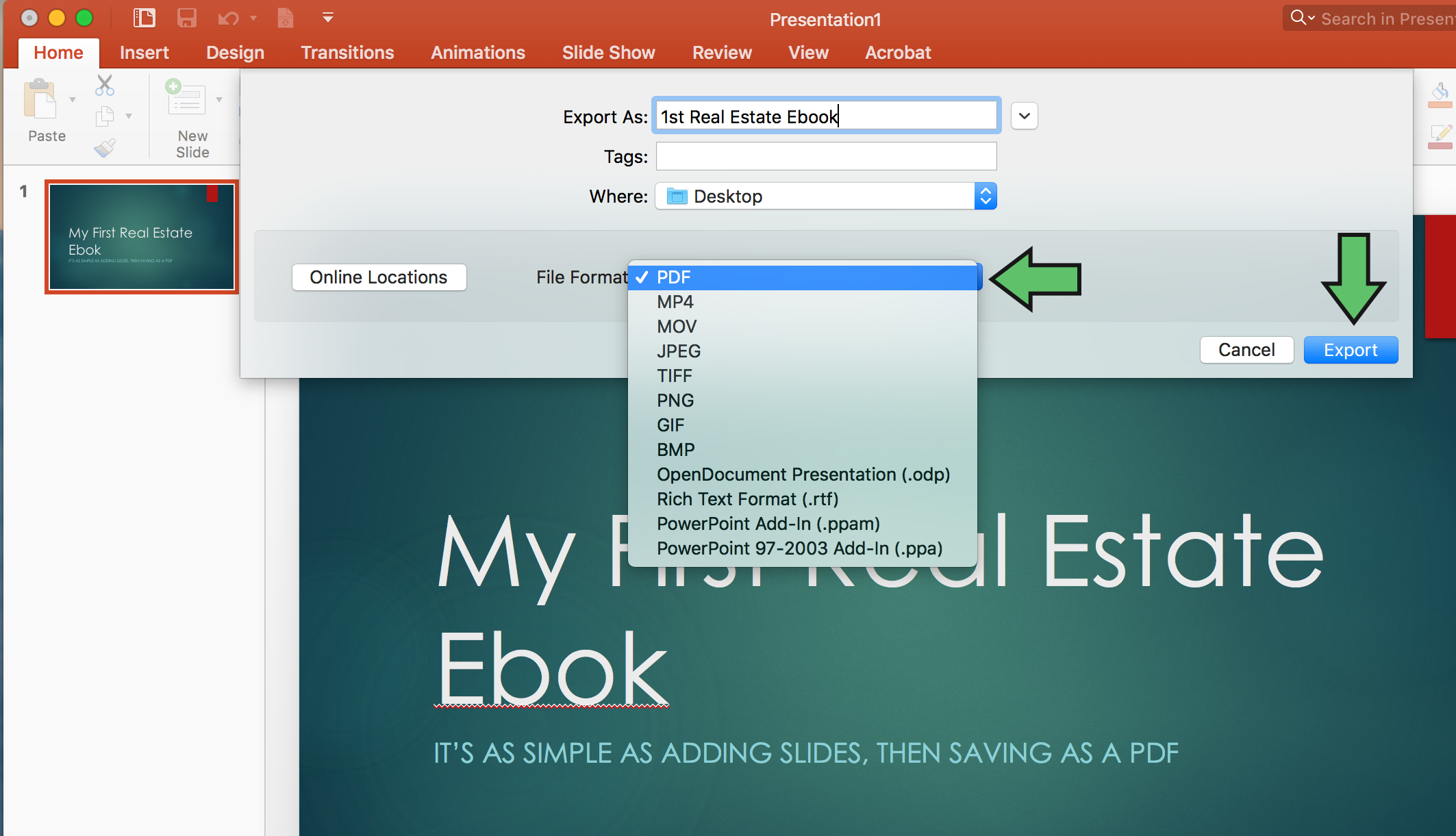 With Keynote
4. Advertise the Ebook
Start out with a Squeeze Page. You can set the redirect option to a Download and upload the Ebook. This way anyone fills out your squeeze page, will get your valuable ebook in exchange for their contact information. Then, setup a Facebook ad campaign to bring extra targeted traffic to this squeeze page.